In v2015R1, Qoppa added an optional module to our PDF editing and annotating component jPDFEditor that allows to compare 2 PDF documents or drawings by by overlaying / superimposing them. 
Compare Overlay allows to superimpose 2 drawings or documents and immediately identify the differences using color coding:
Elements present only in first drawing appear in red (customizable color).
Elements present only in second drawing appear in green (customizable color).
Alignment tools allow moving and resizing second document dynamically for perfect match.
Option to export the overlay comparison as a new PDF, with the 2 drawings included as layers.
At any time during the comparison, using the toolbar, annotate or markup onto the main document (Document A).
Switch over to the Side by Side Comparison mode by clicking on the "Side by Side" button in the Overlay Comparison dialog.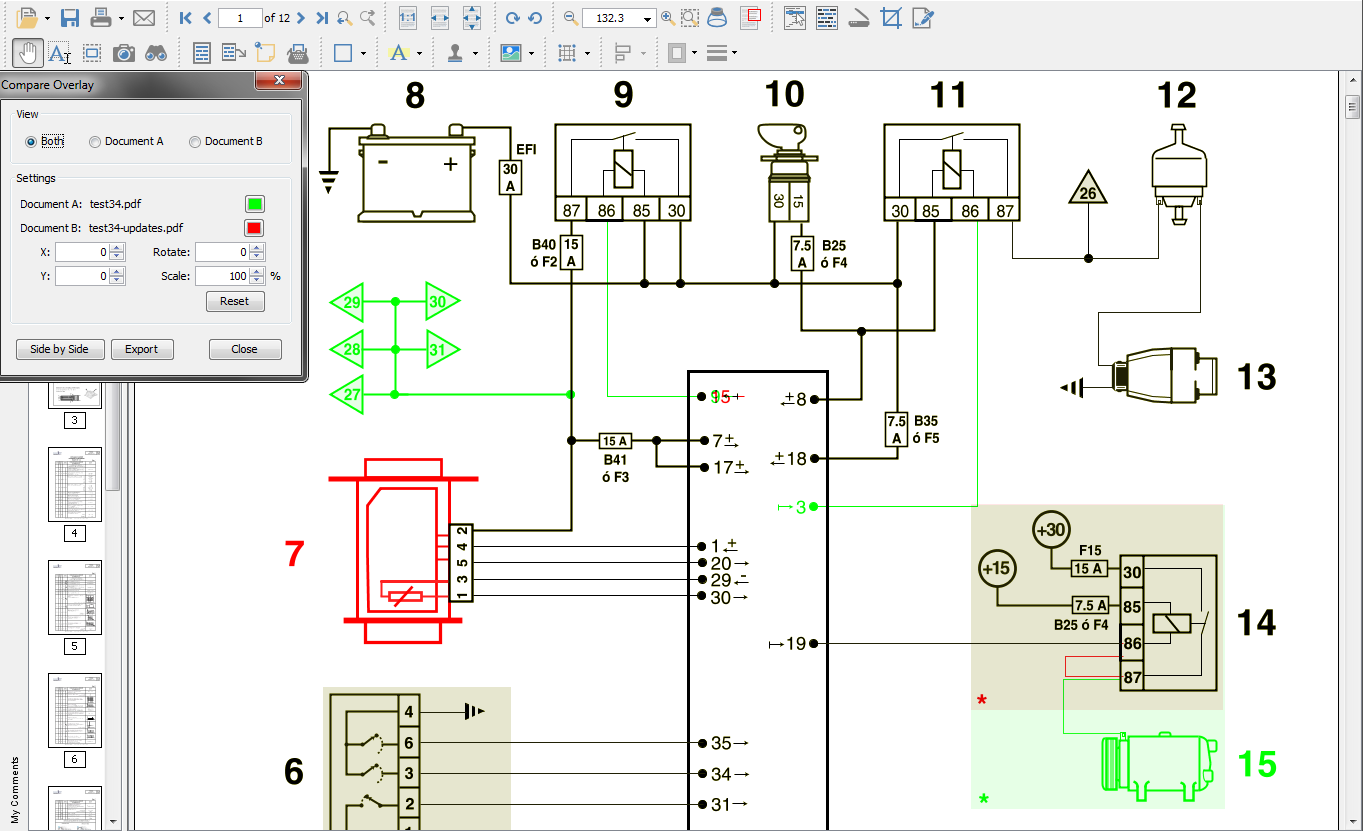 Comparison Adjustment Options
The following adjustment options are available:
View – choose to display both or each document individually
Color – select the color of each document (the default colors generally provide the best results). Read our KB entry regarding Choosing colors for overlay PDF comparison.
X & Y – adjust the X & Y values of Document B to move it left, right, up, or down
Rotate – adjust the rotation of Document B if needed
Scale – make Document B smaller or larger if needed

Exporting Comparison as a PDF
The comparison can be exported as a single document with the overlay as the base layer and Documents A & B as layers within the document. To export, click on the "Export" button in the "Compare Overlay" dialog.
The overlay comparison view will be rasterized (turned into an image per page) as the base layer.
The original Document A – Layer 1
The original Document B – Layer 2

Exiting Comparison Mode
To exit the comparison mode, just click on the "Close" button on the Overlay Compare dialog to return back to Document A.
Contact info@qoppa.com if you're interested in licensing this new module.